An interview with Andy Glidden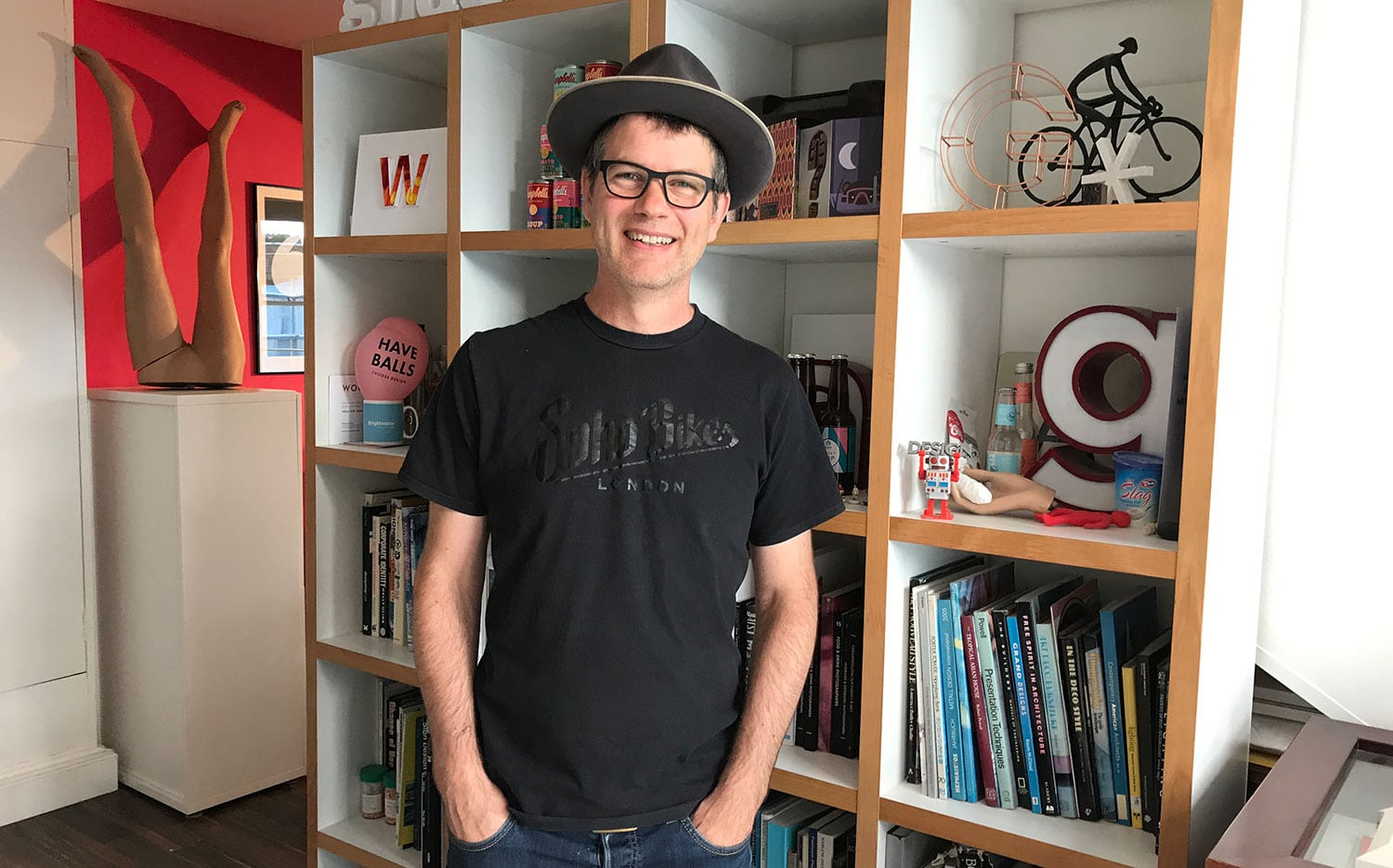 Our Creative MD, Andy, told his story to the alumni team at Edinburgh College of Art – recalling how a bright pink rocking chair landed him an appearance on TV show Blue Peter. Following an international career at various design consultancies, he set up Glidden Design in 1998.
---
Tell us about your time at the University
I was always interested in making things and drawing as a small child – my father and grandfather were both very practical and always making or fixing things around the house and garden, so it seemed quite natural to me. At school my art teachers were always very encouraging and said I should go to art college – I didn't really know what you actually did at art college, but it sounded like a good idea!
The foundation year at Edinburgh College of Art (ECA) allowed me to try lots of different disciplines, including drawing and painting, sculpture, visual communications, jewellery, fashion, furniture design, photography and more, which was a really great experience before choosing a main and secondary subject in second year.
I had a brilliant time at ECA, partly to do with the opportunity to be creative and experiment and partly the whole student experience of having fun, getting involved in the Entertainments Committee, the Wee Red Bar, revels, partying and generally meeting lots of diverse people.
I remember for one revel [an annual themed ECA party] we created a false ceiling out of wire and tin foil, covering the entire sculpture court at balcony level with shimmering silver. At another we built a huge castle out of cardboard and wood for the stage, with dry ice pouring out of the turrets. I also used to hand draw giant posters around 2.5 metres by 1.5 metres to put up in the Club for the parties and bands that played in the canteen and Wee Red Bar, and still have around 10 of them rolled up in a huge cardboard tube in a cupboard at home. If I ever get a big enough space I'd like to frame a few for nostalgia.
Tell us about your experiences since leaving the University
When I graduated in 1985 I spent a few months in Edinburgh then headed to London to try to find a job in design. For my degree show I had made a 'rocking chair', amongst other things – it was a little unusual in that it was bright pink and inspired by a 1950's Cadillac – it had working headlights and tail lights and had a built-in sound system, so made quite a noise and grabbed attention – It was featured in the Scotsman newspaper, then picked up by a national interiors magazine where it was spotted by Biddy Baxter, the editor of the long-running TV programme Blue Peter. I was invited to take it along to the studio where they featured it on the show – I still have a recording and the Blue Peter badge somewhere…
This led to me getting a job offer in Dorking, which I did for a few months before moving to a multi-disciplinary design practice called McColl in Wigmore Street, London. Here I worked on a number of retail, exhibition and office projects and had a great time learning the basics from a really good bunch of people.
After around 18 months I moved to the American design consultancy Landor Associates, based in Mayfair, London. They were famous for rebranding British Airways in the 1980s and did a lot of international work. I stayed at Landor for 10 years, and again had a fantastic time with great people working on a whole variety of large design and branding projects all across Europe and beyond. I was lucky enough to work on projects in Finland, Sweden, Italy, Spain, France, Austria, Germany, Greece and Turkey, amongst other places. During my time at Landor, I worked on the rebranding of Cathay Pacific Airlines and spent a lot of time travelling to Hong Kong. Eventually, I had the opportunity to transfer to Landor's Hong Kong office for 2 years to implement the Cathay Pacific design system on aircraft, lounges and ticket offices, and also work on petroleum projects across Asia and Dubai.
I eventually returned to London and worked a further two years with Landor before finally setting up my own design studio, Glidden Design, in London in 1998 with a focus on brand identity projects. One of my first projects was the creation of a brand identity and interiors for a new Greek Bank. The client was someone who I had met and got on well with as a client whilst at Landor, and they had been appointed to manage the creation of the design and marketing of the new bank. They got in touch and asked if I would like to work on the project and of course I leapt at the chance. After 5 years running the business in London I moved the company to Edinburgh with my family, and continued to work on projects, many of them in the early years in Greece.
Glidden Design is now 20 years old, and our studio is in George Street, Edinburgh. We have a staff of 5 really talented people and have a fantastic time working across a whole range of 2d and 3d design projects involving strategy, brand identity, print, digital, multi-media, interiors, exhibitions and marketing communications for a wide range of clients.
Alumni wisdom
You are creative. Make sure your CV expresses your individuality, creativity and attention to detail. Every little part matters. You need to stand out from all the other people after your job. Don't use a Word document. Don't say, "If you want to see examples of my work get in touch" or "Click here to see my online work". That's lazy and impersonal. Do put a few good examples of your creative work in whatever you send, not just where you were educated etc. You get one chance – don't miss the moment. Spell-check it until absolutely perfect. Don't write anything about liking the work that the company does – it comes over as 'cheesy'. Don't think that you have all the answers and expect to be treated like a genius – you will be starting at the bottom, but will rise quickly if you can demonstrate enthusiasm, willingness to learn, have talent and most importantly, be a nice person to have around! You will have to be tenacious, so don't take rejection to heart – remember that the people you are contacting may be busy and may not even reply, but keep trying and you will eventually get a break. Design is a wonderful career – do your best and good luck!
---
You can view the interview on the ECA alumni site here.
Find out more about the Edinburgh College of Art Design School here.
---