Designer's sketches raise thousands for dementia charity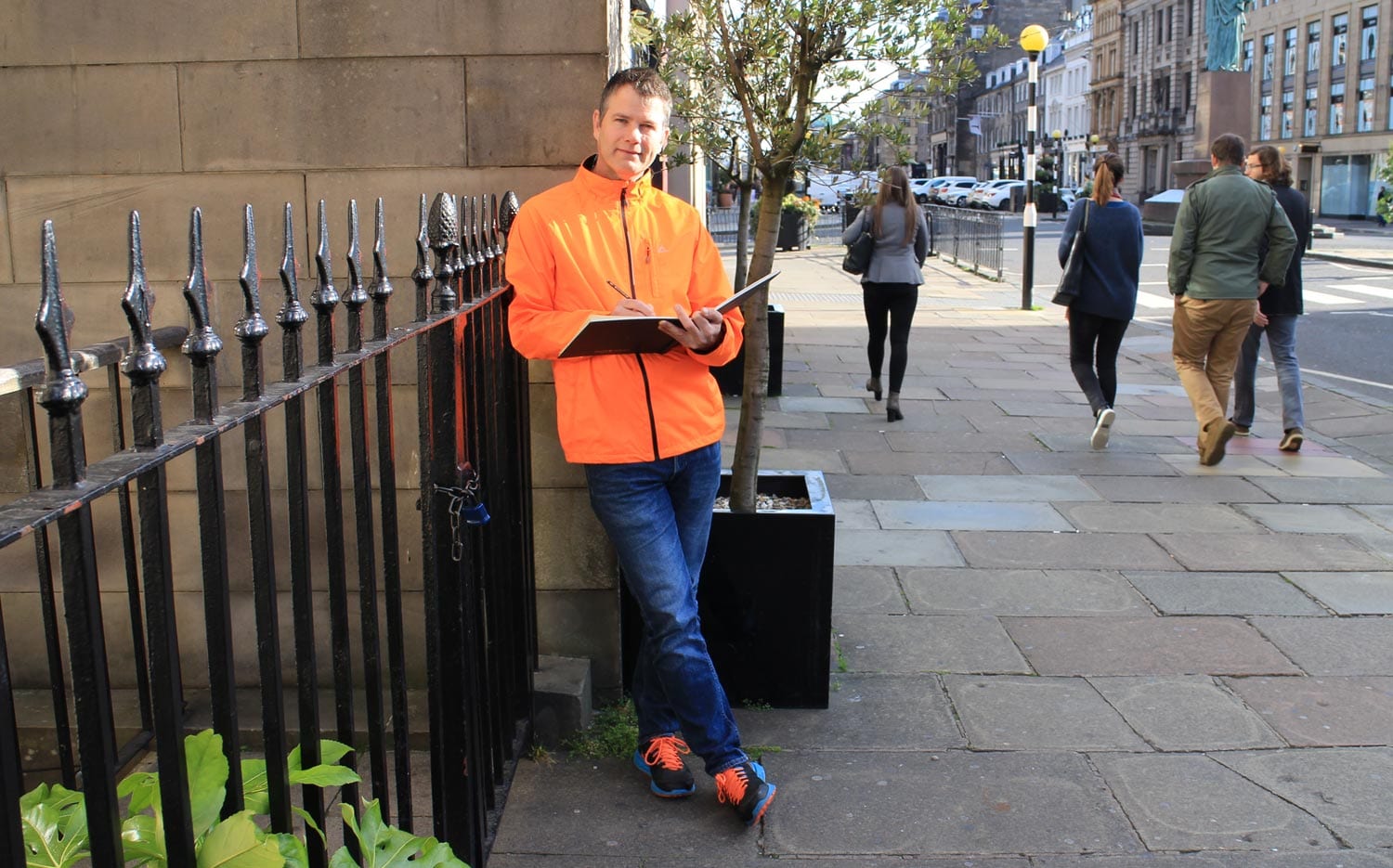 15-minute sketches raise £7,014.48 for Alzheimer's cure
As a professional commercial designer, I found myself spending almost the entire working week sitting at my desk in our George Street studio in front of the computer, eating lunch at the same desk. I needed to break the cycle. But how?
After an inspirational visit to the Royal Scottish Academy Summer Exhibition in 2017, I hatched a plan. Get out of the studio one lunchtime a week for a whole year, and do a sketch of whatever took my fancy. And to make things interesting, set a maximum time limit of 15 minutes per sketch, no more. Oh, and no rubbing out.
With no client to satisfy, and no ambition beyond the therapeutic process itself, the journey began. Tentative at first, growing more liberated and free by the week. "I draw what I feel, not what I see" was my mantra.
Friends and colleagues were encouraging, and all of a sudden here we are. The year has passed, all 52 sketches completed, an exhibition and a book – who'd have thought it?"
"Since the whole idea was never intended to be about making money, I decided the purest conclusion was to donate all profits from selling the original sketches at the exhibition to a worthy cause, a sum of £7,014.48. Since my 91-year old father suffers from Alzheimer's Dementia, which is a terrible disease, I chose Alzheimer's Research UK in the hope that some good may come from the donation which would benefit all in the future."
Kyle Lockhart, Alzheimer's Research UK Regional Fundraising Officer for Scotland said:
"We are so grateful to have the support of Andy at his art exhibition. This is the largest single donation from a private individual in Scotland. There are around 7,000 people in Edinburgh and 70,000 people in Scotland with dementia and the condition has a devastating effect on families. "
52 in 52 – One year of weekly 15-minute sketches of Edinburgh and beyond was exhibited at White Stuff, Edinburgh from Saturday October 20 – Friday October 26, 2018. All profits from the sale of the original sketches during the exhibition were donated to Alzheimer's Research UK.
Whilst the donation process has been completed and is no longer running, individual high quality giclee prints are available framed or unframed of all 52 sketches. Also, a book of all 52 sketches is available to buy by contacting Andy directly.
All sketches can be viewed here.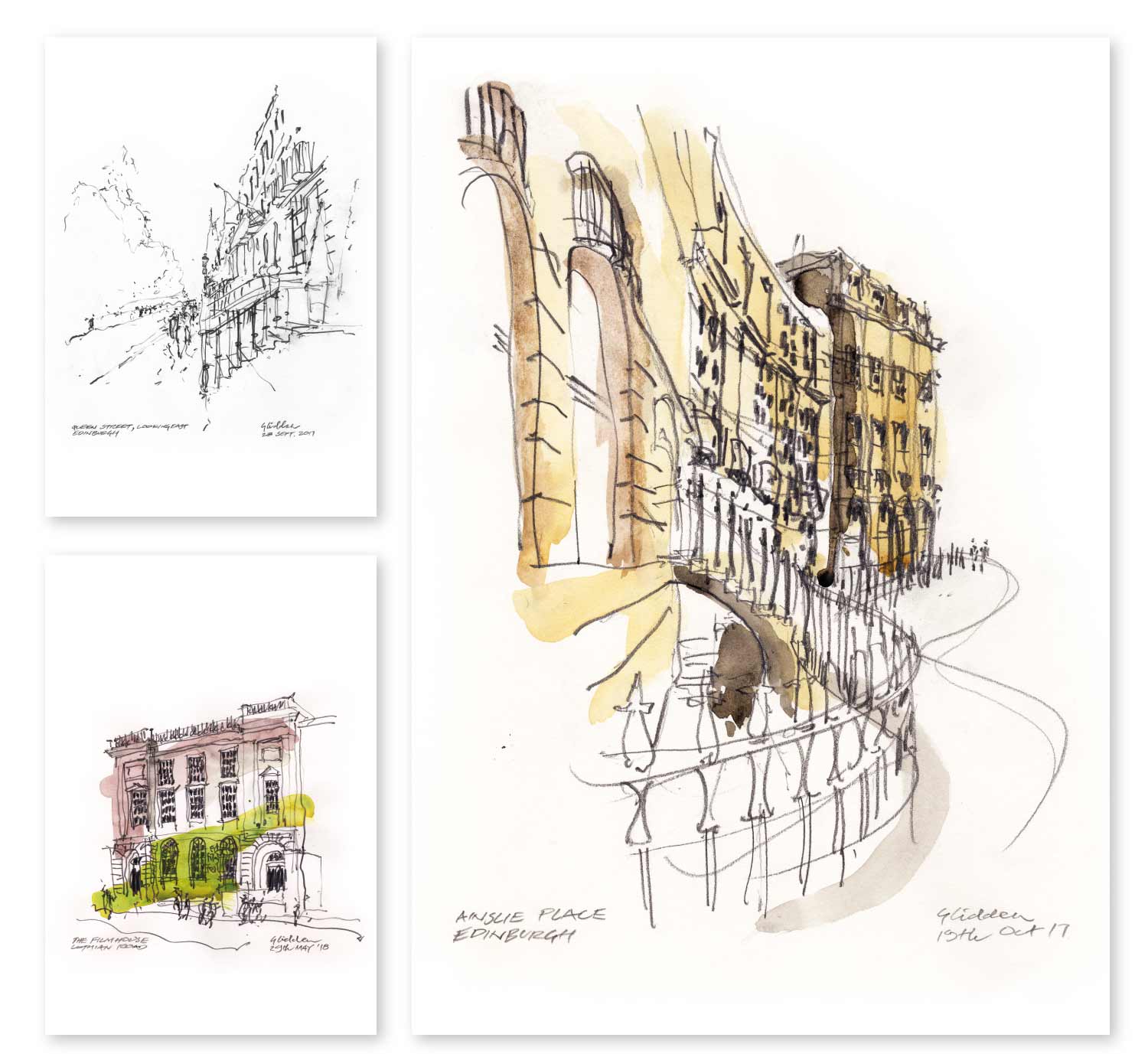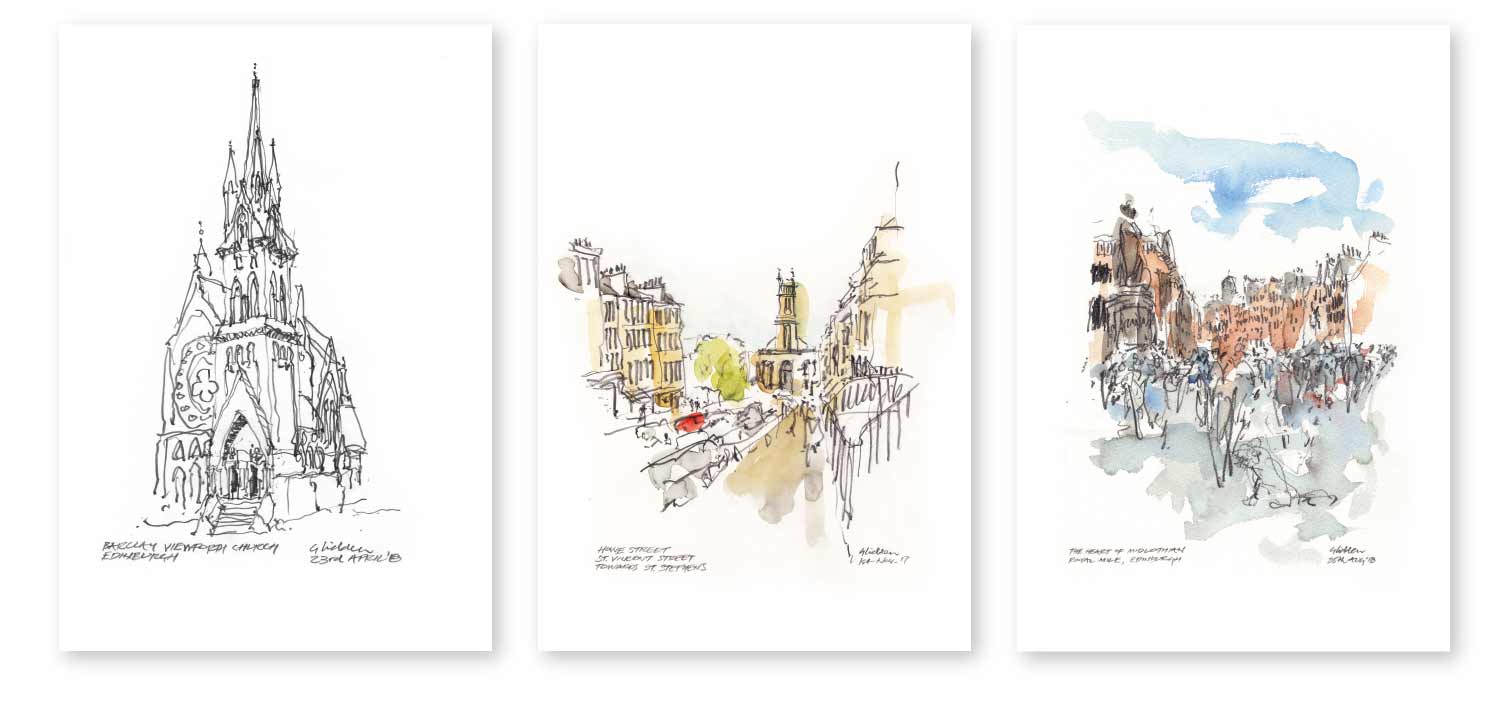 ---
Further Reading
About the artist
Andrew Glidden studied at the Edinburgh College of Art in the early 1980s and spent almost 20 years living in London and working all over the world as a professional commercial designer.
He set up his own creative design and branding agency with his wife Anni in 1997, before moving the business lock, stock and barrel to Edinburgh in 2002, where it continues to thrive.
Instagram: @andyglidden
Alzheimer's Research UK
Alzheimer's Research UK is the UK's leading dementia research charity.